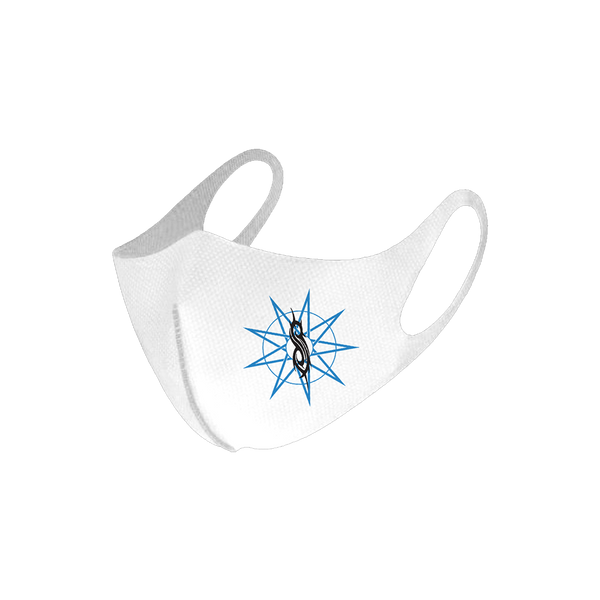 WHITE STAR MASK
---
REUSABLE AND WASHABLE WHITE FACE MASK.
EACH MASK FEATURES A LASER CUT, SINGLE-LAYER CONSTRUCTION OF LIGHT-WEIGHT 3-PLY KNITTED MATERIAL MADE OF 99.9% ATB®-UV+ FIBER. WITH PERMANENT SILVER ION TECHNOLOGY, FABRICS MADE WITH ATB®-UV+ PROHIBIT THE GROWTH OF MOLD, MILDEW AND ODOR-CAUSING BACTERIA ON THEIR SURFACE EVEN AFTER LONG PERIODS OF USE AND MANY WASHES.
ATB®-UV+ FIBERS OFFER UV PROTECTION, ABSORB MOISTURE QUICKLY, AND DRY 20% FASTER THAN POLYESTER FIBERS AND IN HALF THE TIME OF COTTON FIBERS.
PLEASE UNDERSTAND THAT CLOTH FACE MASKS ARE FOR PERSONAL USE. THEY ARE NEITHER MEDICAL DEVICES NOR PERSONAL PROTECTIVE EQUIPMENT ("PPE"). FOR THE AVOIDANCE OF DOUBT, THE USE OF CLOTH FACE MASKS DOES NOT PROTECT YOU AGAINST COVID-19, AND IS NOT INTENDED TO REPLACE RECOMMENDED MEASURES TO STOP THE COMMUNITY SPREAD OF COVID-19, SUCH AS SOCIAL DISTANCING, WASHING YOUR HANDS AND REFRAINING FROM TOUCHING YOUR FACE. FOLLOW THE LATEST ADVICE OF PUBLIC HEALTH AUTHORITIES – SUCH AS THE WORLD HEALTH ORGANIZATION (OR WHO, SEE WWW.WHO.INT) AND U.S. CENTERS FOR DISEASE CONTROL AND PREVENTION (OR CDC, SEE WWW.CDC.GOV), AS WELL AS LOCAL OFFICIALS AND YOUR OWN HEALTH CARE PROFESSIONALS – ABOUT THE USE OF FACIAL MASKS. AS OF APRIL 10, 2020, CDC NOTES THE FOLLOWING WITH RESPECT TO CLOTH FACE MASKS:
CLOTH FACE MASKS ARE NOT SURGICAL MASKS OR N-95 RESPIRATORS
DO NOT PLACE ON CHILDREN UNDER AGE 2, ANYONE WHO HAS TROUBLE BREATHING, OR IS UNCONSCIOUS, INCAPACITATED OR OTHERWISE UNABLE TO REMOVE THE MASK WITHOUT ASSISTANCE
WASH ROUTINELY, DEPENDING ON THE FREQUENCY OF USE
BE CAREFUL NOT TO TOUCH YOUR EYES, NOSE, AND MOUTH WHEN REMOVING AND WASH HANDS IMMEDIATELY AFTER